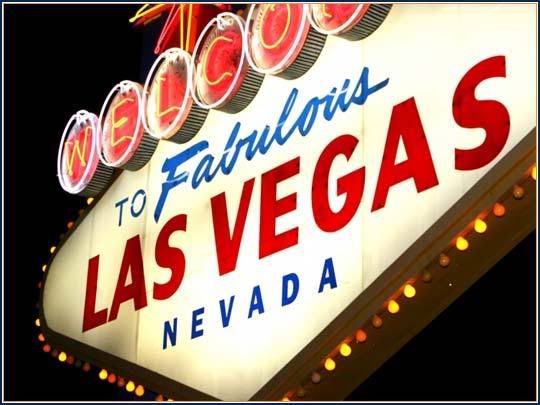 Awwww..the Las Vegas sign. We miss you Vegas. WE had SO much fun that I can't wait to go back and actually we are already planning another trip! Feel free to join us...really we had so much fun that hope to go at least once a year!
For those who didn't know this trip was planned as a surprise trip for Brian's birthday! We were actually in Vegas on his bday which was really cool! I had been planning this for almost 5 months and YES...I kept my mouth shut about it the WHOLE time! It was very hard because we tell each other everything! So, needless to say he was SUPER surprised and REALLY in disbelief. He just kept saying.."We are going to Vegas?" I told him we were going to Vegas on Thursday night as we sat down for dinner. I had found a music birthday card that had playing cards on the front and it sang "The Gambler". I put some Southwest drink tickets in the card so when he opened it he was immediately confused. He said, "ok..what is going on?" Then I screamed, " WE ARE GOING TO VEGAS TOMORROW!" He freaked out and couldn't believe it! I totally surprised him!Also..Brian's best friend Stacey went with us and my best friend Lea flew in from LA and met us in Vegas on Saturday! We had a blast and were so glad our friends could join us! He was even more excited because he knew he would get to play ALOT of POKER.
If you know my hubby, you know he wants to be a professional poker player, LIKE FOR REAL! He is very serious about this. I believe in him 1,000%! So, anyways...we had a great time and enjoy all of our pics!
Brian and Stacey on the plane!
Us having dinner for Brian's Birthday!
HAPPY BIRTHDAY BABY!!
Our HOTEL!
Lea and Stacey at dinner
Me and Brian gambling at Bellagio
Lea and I at Pure in Caesar's Palace
"O" the SHOW..AMAZING!
Brian and Stacey at "O"
Lea and I with our HUGE drinks getting ready to walk the strip!
The beautiful fountain in the Venetian
We ♥ VEGAS! We can't wait to go back!!
XOXO,
Noelle♥