Here is the pink cup my hubby drew a name from!
OK...he's taking one out....
And the winner is..........................
STEPHANIE TAYLOR!!! CONGRATULATIONS!!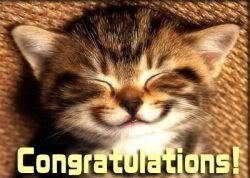 Please email me at glamrbaby@yahoo.com to claim your onesie or tee!! :O)
Thanks to everyone who entered in the contest!! There will be a new one this evening!! Keep an eye out for it!! This new giveaway will be super SHORT!! It will only run about 3 days, so make sure you get your entries in and FAST!!!
XOXO
Noelle♥